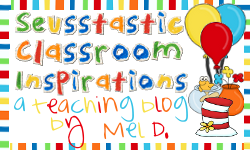 I am over the moon excited and honored to be a new TBA author! If you don't follow me already, I would love it if you check out my blog, simply click the button above. I blog a lot about Daily 5, literacy stations, organization, and classroom management. Have you seen these floating around Pinterest??
These have been all over Pinterest & if you wondered where they came from...................
I am Mel D from
Seusstastic Classroom Inspirations,
formally known as Oh the Places We'll Go! I have been blogging since May, yes you can do this too! I have been blog stalking for about a year now & I really don't know what I did with my time before. I think I need a 12 step program with the blog stalking addiction I have...I'm serious. I have always loved my job and the impact I have on children daily but blogging & blog stalking has changed my life & career for the better. I enjoy sharing all the ideas I have with you & will continue to do so even more. I post a ton of freebies & also have teacher stores. I am completely O.B.S.E.S.S.E.D. with Pinterest....seriously I need to meet these founders & give them a big obnoxious hug! This is the best idea EVER! If you don't follow me, you need to
here.
I had an issue with Pinterest when I first discovered it. In fact, I was getting so OCD about it I was waking up my husband at night with the light on my phone. I was losing sleep. I was even pinning while driving...I know I'm a naughty girl. I have calmed down since school has started but I still wake up & "pin" before I do anything. You can also find me on
Twitter
and
Facebook.
If you haven't checked out the following blogs, I am an author/contributor for them too!
I would also like to give a shout out to Charity Preston from the OC Blog.
Charity created the
Teaching Blog Traffic School (TBTS)
and I have gained so much knowledge from taking this course. If you would like to start your own blog, I highly suggest making this investment, it's well worth it. Check it out
here
and tell her Mel D sent you!
I
am elated and forever grateful to be a TBA author and have loads of ideas to offer you so I hope you stop by & visit my blog here.