In kindergarten, I think it is so important to build a student's number sense. Without it, higher math concepts would be very difficult to grasp. My goal this year has been to solidify my students' knowledge of numbers and how they work. Something I created to help build number sense was a set of 10 frame flash cards. I decided to create my own because I was having a hard time finding more than just the traditional ones for free. I created the traditional 10 plus some that are out of the ordinary. The cards should get students thinking about combinations of numbers. Click the picture below to download the cards for free!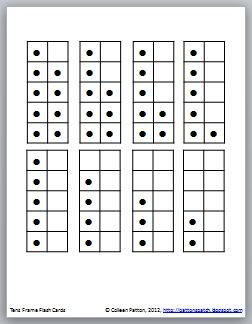 Click here
to see the ideas I have for using them.
I also created another freebie for you fabulous readers! I want my students to build automaticity with number combinations. I created a board and I Can cards for number combinations 5-10. All you need to do is prepare a regular deck of cards, print off the board, and print off the I Can cards. As much as I love the cute playing cards we create with clip art, sometimes it's nice to just use the plain and simple deck of cards that we don't have to laminate and cut apart, right? :)
For more freebies and kindergarten/first grade ideas, head on over to my blog!