CAFE BOARD- My new cafe board is still in progress. One idea that I am really excited about is the magnetic (stove) burner covers from the dollar store. I am going to print the students' names on the a magnetic strip and they will place their name into whichever category they are working on. I like this better than post-it notes because they won't fall off!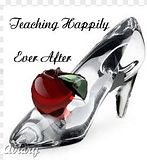 FRAME YOUR BOARDS!
- I added the same solid blue frame around ALL my bulletin boards. I have lots of bright colors in my room; by giving them all the same border it adds a uniform look. Also, all of my bulletin board paper is black (except for my cafe board). If you haven't added a border to your whiteboards, I would highly recommend it. It make them pop! :)
ADD LABELS TO EVERYTHING- Look extra organized- label! I printed everything onto one color cardstock that will be grouped together. I try to keep everything very uniform.
Come see the rest of my organization ideas including computer organization and setup tricks at
Teaching Happily Ever After!
Did I mention there are more freebies? :)