Hello friends! It's Mel D from
Seusstastic Classroom Inspirations
! I'm so happy to be finished with school & back to blogging....my true love! Classroom management is one of my favorite "teachery" things to talk about. I love helping out new and even seasoned teachers with my classroom management ideas.
I had a D.O.O.Z.Y of a class this year. In fact, it was the
WORST
class I've had..... E.V.E.R! In nine years, I've never seen anything like it. I was ready to retire @ 39 in August....a day after school started....I'm so.......... N.O.T. KIDDING (insert Chandler Bing voice)!!!
Let me give you a list of reasons I knew I was going to gain a few MORE grey hairs this year. I knew RIGHT AWAY I needed to change up my classroom management plan & F.A.S.T! Let's play I NEVER shall we?? Here is a list of things I thought I'd NEVER have to do:
*I've never dropped a clip within the first hour of the first day of first grade.
*I've never thought of switching careers.
*I've never met with 10 different parents within the first 2 weeks of school. Yes, 10!
*I've never made a parent phone call regarding behavior on the first day of school.
*I've never tracked down a child's teacher, who is now retired & lives out of state to
freak out
discuss a child.
*I've never threatened to take fingerprints & send it off for investigation.
*I've never pretended my webcam went to the principal's office, the local police & their parent's house....1st graders fall for anything :o)
*I've never had so many adult beverages in the evening.
*I've never thought I might need to "work out" to relieve stress.....I hate working out. Just showing you just HOW DESPERATE I'd become.
*I've never been tempted to video a child & text it to their parents for proof/evidence of their obnoxious behaviors.
I really could go on & on but I thought I'd spare you. You get the gist, right???
I've always had little secrets up my sleeve that I use year to year such as my warm fuzzies. These little fuzzies are magical. I was honored to present for the Everything's Primary Virtual Teaching Blog Expo on classroom management
here.
It can be purchased & viewed at your leisure for only $3.95! I discuss the following:
HERE
to read all about how I use this system in my own classroom.
HERE
to read all about my reward coupons. I created over 30 coupons all for FREE!
Since I had so many students with lets say...... "issues" this year I also had students who needed to be recognized for doing the right thing.....ALL.THE.TIME. Once upon a time, Lakeshore Learning used to make necklaces that said "Star Student" or "It's my birthday" BUT they discontinued them! Wah! So I decided to make my own & boost self esteem at the same time. My students were BEYOND OBSESSED with these simple necklaces. I have a list to make more since they were such a big hit. When a student received a necklace to wear for the day I always would take a picture of them & post it on my blog. The parents also LOVED the fact that I recognized their children daily with their different achievements. Check out my post about these necklaces by clicking on the picture or
HERE
.
I discovered this book at the end of last year & read it along with the one below immediately. Read all about my bucket filler (my very first blog post)
HERE.
One of my first PT conferences I discussed above...the mother asked me why her child keeps calling her a bucket dipper & telling her to stop dipping in his bucket....LOL.
If you are interested in reading more about my classroom management techniques, hop on over to my blog here.........................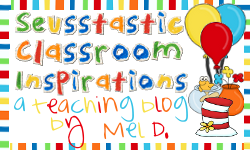 Go to my right hand side bar, scroll down until you see "labels" & click on "classroom management".