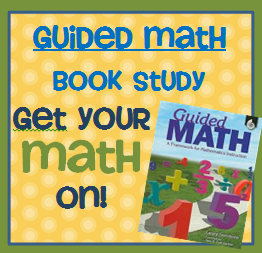 Good morning, Saturday. I am away for the weekend visiting my parents as we will be having a baby shower for my sister today...my first nephew! I'm going to be an auntie in August!! The husband and the baby are still quietly snoozing upstairs and I have a rare moment to myself. So what did I do? Blog of course!
I think I am becoming obsessed with Guided Math. The more I read in this book the more ideas start jumping around my brain and the more I want to get started. I have posted my thoughts about Chapter 2 over at my blog, Thinking of Teaching, as well as answering a few questions from followers. You may even find a freebie to go along with Chapter 2!
Some of the topics addressed in Chapter 2 that I am interested in exploring further are:
- problems of the day and problems of the week
- word wall and vocabulary displays
- math-related children's literature
- math books by student authors
I have worked a few of these into my current math practice, but of course there is always room for improvement. I would for you to stop by and let me know your thoughts about Chapter 2 as well.