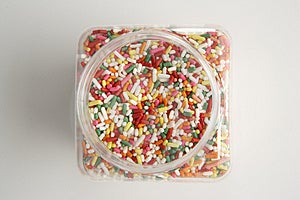 Testing in kindergarten? Sounds like an oxymoron, doesn't it? Unfortunately, these days it is the way of life. Data is the key to the future (well, some think so anyway) and you can't have data without testing. So, whether it is an end of year math test or an assessment to report on a student's comprehension, I have the answer that will help sustain your students' attention (sorry--it won't necessarily bring on all the correct answers!). It all happened by chance, too...
I always use some sort of tiny treat to entice them to show proper test-taking techniques (looking on own paper, mouths quiet, no shouting out answers, not going ahead, etc. etc. etc). I give them a handful of treats that they can eat after we have "appropriately" completed a particular section of the given assessment. I also can snag a treat if any of the expectations aren't upheld (just for the record- they DO NOT like this).
I was searching high and low for some sort of enticement for the end of the year 14 page LA assessment (yes, I am serious) and found a jar of sprinkles left over from our ice cream party...I quickly worked my kindergarten magic and turned them from jimmies for into Brain Sprinkles for test taking. I wasn't sure if they would buy into it, BUT, boy did they ever. A spoonful (well, not quite that much) of Brain Sprinkles turned them into the best, little testers I could ask for. It is a teacher's dream come true: inexpensive, readily available and a little goes a LONG way. To make it all the better for you, I made a label as a jpeg so you can make it the right size for your bottle of Brain Sprinkles. Swing on in to Mrs. Miner's Monkey Business to grab the freebie start sprinkling tomorrow!