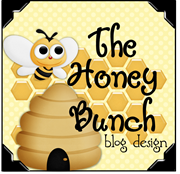 Are you planning to start a teaching blog in 2013 or maybe you'd like to give your existing blog a makeover for the new year?
TBA's partner Honey Bunch Blog Design has some great new layouts and themes for you to take a peek at.
Some key features of
Honey Bunch Blog Design include:
~ Uniquely You Designs: The Honey Bunch team work personally with you to create a design for your blog that is as unique as you are.
~ Premade Templates: Just as with their custom designs you will never see someone else with your template.
~ In-House Custom Artists: Honey Bunch offers custom created clip-art through several designers at discounted rates to fit your unique needs.
~ Blog Spotlights: As each one of their clients becomes a trusted friend through this process, Honey Bunch feature each of their blogs on their site.
~ Each design includes 1-hour of design support within the first 30 days. Decide you don't like a font after all... they will fix it!
~ Specializes in Teacher and Classroom Blogs
~ Blogger/Blogspot Platforms
Here are some of their latest designs:
{Click here to see more of their beautiful designs and blog themes}
Disclosure: Honey Bunch is a contributing sponsor of TBA